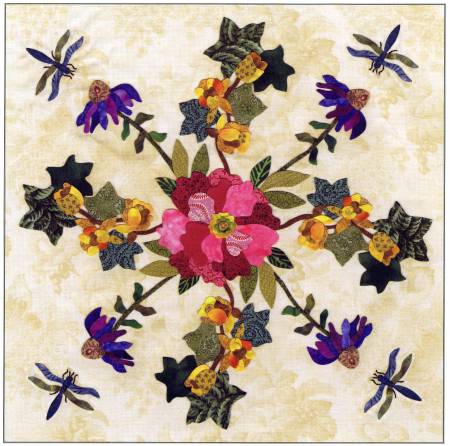 PATTERNS
American Album Block of the Month Indiana - Cross Roads of America Block 7





By Pereira, Pearl & Prioleau, Susan
In Pattern Series-Block of Month
DESCRIPTION
Indiana Cross Roads of America - True to its motto, Cross Roads of America" more major highways intersect in Indiana than any other state. The Peony has been the official state flower since 1957. The Tulip Tree with its long-stemmed bright green leaves and yellowish-green tulip like flowers has been Indians official state tree since 1931. Its wood is used to manufacture furniture, plywood, paper, boxes and crates.

Finished block size 15in. - Our love for Baltimore Album Quilts made during the 1800's was the inspiration for our American Album Blocks. Each realistic album style block is filled with flowers, birds and a little American History. Each pattern includes full size numbered pattern with detailed embroidery instructions and Pearl's Easy Applique Techniques. Join us as we travel across America block by block and state by state.


Not in Chains

Made in USA


$6.00

Finding Suggested Products.
Please wait.