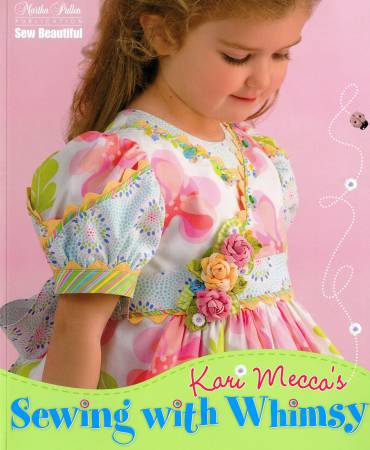 BOOKS
Kari Mecca's Sewing with Whimsy - Softcover





From
Martha Pullen Publication Sew Beautiful
By Mecca, Kari
In Sewing
DESCRIPTION
A Touch of Whimsy***

Sewing with Whimsy is a fanciful treat in children's sewing and embellishing. Each chapter begins with a classic pattern based on a simple silhouette then takes the sewing enthusiast on a magical journey, traveling down a path of originality filled with trims and techniques. Kari Mecca's one-of-a-kind projects and ideas range from fun and funky to sweet and sassy. She teaches each new trim or embellishing technique using step-by-step directions that mesh by design with a simple construction approach. The Stitches & Techniques section provides clear, in-depth instructions using easy-to-follow photographed steps and detailed illustrations.

Techniques include:

**creating magical rickrack flowers and trims

**making and applying beautiful ribbon flowers

**adding sparkle with beads

**the sewing artistry of machine and heirloom sewing techniques

Special tips and hints are highlighted throughout and are punctuated with inspirational photos to encourage readers to lend Kari's touch to their own projects and patterns. Sewing with Whimsy is truly one of Kari's most creative endeavors to date, and gives everyone pause to wonder, what sewing journey will she take us on next?


Made in USA


$24.95